I've been using teams at work for about 2 months now without any issues. We've been working from home for the last week, and initially I still did not have any issues.
Our corporate VPN started taking strain from the increased load, and a new alternative corporate VPN was provided which could handle the load.
When I connected to the new VPN teams would not log in, but if I switched back to the old slow VPN it would work.
However since Wednesday afternoon teams has refused to log me in even on the old VPN. And I get this contradictory error screen: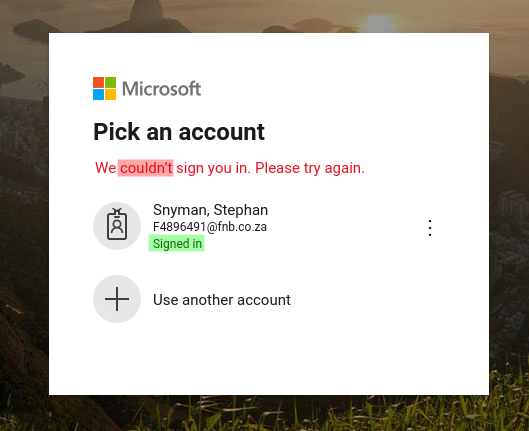 It keeps asking me to sign in. Then it takes me to "My Organization's Sign-In page" Asks me to 2FA which I do. And then goes to the screenshot you see above.
So it cannot be that I am not typing in the correct username/password otherwise it would not ask for 2FA.
I have set the following environment variables (which work for all other programs) to connect to our network proxy when on VPN/corporate network:
http_proxy
https_proxy
HTTP_PROXY
HTTPS_PROXY
But when teams starts up I see it never hits our proxy server, but one college on Linux, who's teams is working did connect to the proxy.
My colleagues who use both windows and Linux have said they can use teams on either VPN, and some can even use it from their home internet (not on corporate network).
I have tried reinstalling teams multiple times (including making sure config files are deleted)
Logging in on a browser sometimes works (but I have to allow 3rd party cookies which reduces security, and is not an ideal solution since I can't do audio or video calls)
My Setup:
Hardware: Dell Precision 3530
OS: Arch Linux
Please advise.